Posted on
Posted in Cabernet Franc, Cabernet Sauvignon, france, Gamay, grenache, Italy, Nebbiolo, Portugal, Syrah, vinhao, Virginia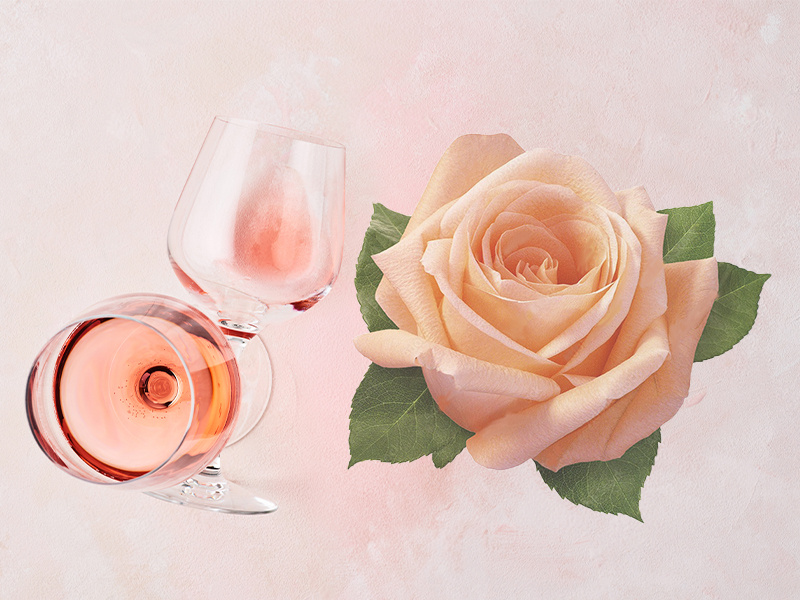 Would you rather have a bouquet of Rosés than Roses? The benefits to having the Rosés are: enjoying rosé from all around the world, they will not turn brown or wilt; they smell just as lovely as a rose, and at times have the same aroma; and you do not have to remember, or want, to add water! With summer in full swing, with porch and poolside sitting, picnics and outside dining, here is a half-dozen bouquets of Rosé's for you to enjoy.
2022 Lavendette Vine de Pays des Alpes de Haute Rosé from Provence, France- Provence Is not only known for wonderful Rosé's, but also for its Lavender fields. What an appropriate name for this floral wine! The name Lavendette means "Young Lavender" in French. In the region of Provence, vineyards and lavender fields grow side-by-side.  Produced from traditional regional grapes, Cinsault, Grenache and Syrah, this is a rosé with structure, aromas of red berries, and a scent of violets. Pair with charcuterie, crudité, frittatas, or a gourmet ham pannini.               
2022 Domaine Saint-Cyr La Galoche Rosé from Beaujolais, France- It is made from 100 percent Gamay, coming from 25-year-old vines on a clay-limestone terroir in southern Beaujolais. The wine is aged nine months in cement tanks, and one-third aged in used barrels for six months. The cuvée "La Galoche" is named after a small stream that runs by the property, and represents the largest production from the domaine. So full of flavor, this wine has endless pairing options, but a favorite local pairing is Maryland style crab soup. 
2022 Ancient Peaks One Stone Rosé from Central Coast, California- It is composed of Pinot Noir from the family vineyard in southern Paso Robles and select sites on California's Central Coast, where the Pinot Noir grape thrives amid a marine-influenced climate, shaped by the nearby Pacific Ocean. That maritime influence is displayed in the wine, with flinty expressions amidst flavors of watermelon, kiwi and orange blossoms. This is wonderful with fish tacos, grilled chicken, focaccia, light pasta or shrimp.
NV Broadbent Rosé Vinho Verde from Minho, Portugal. A lovely blend of Borraçal, Espadeiro, Amaral, and Vinhão. It is wonderfully refreshing, with aromas and flavors of strawberry, red cherry, peach, apricot, and white flowers. With its natural effervescence, it makes for a great food pairing wine, or an alternative to a sparkling wine. It makes for an excellent partner to grilled rockfish, goat cheese and beets, and tapenade.  
2022 Luigi Giordano Vino Rosato from Piedmont, Italy- Coming from the town of Barbaresco, this Rosé, based on the Nebbiolo grape, has fresh cherries, roses and strawberry, and a hint of grassiness on the nose. On the palate, you will get full-on red fruit, with a refreshing crisp finish.  This would be a wonderful poolside sipper or picnic partner. You could also pair with charcuterie and watermelon feta salad. 
2021 Mountain Run Winery Dirt Road Rosé from Virginia- This is a local wine, from Mountain Run Winery, in Charlottesville. Named for the picturesque quarter-mile road leading up to the winery, this Rosé of Cabernet Sauvignon, Cabernet Franc, and Petit Verdot, is a medium- to full-body Rosé. You will find dark berries, black cherry, rhubarb, and red currant notes, with hints of orange peel. This would pair wonderfully with burgers or fish off the grill, as well as pizza or pasta with sundried tomatoes and olives.