Posted on
Posted in france, Gewürztraminer, grillo, Italy, macabeao, muller-thurgau, Oregon, Parellada, pinot gris/pinot grigio, Riesling, spain, zarel-lo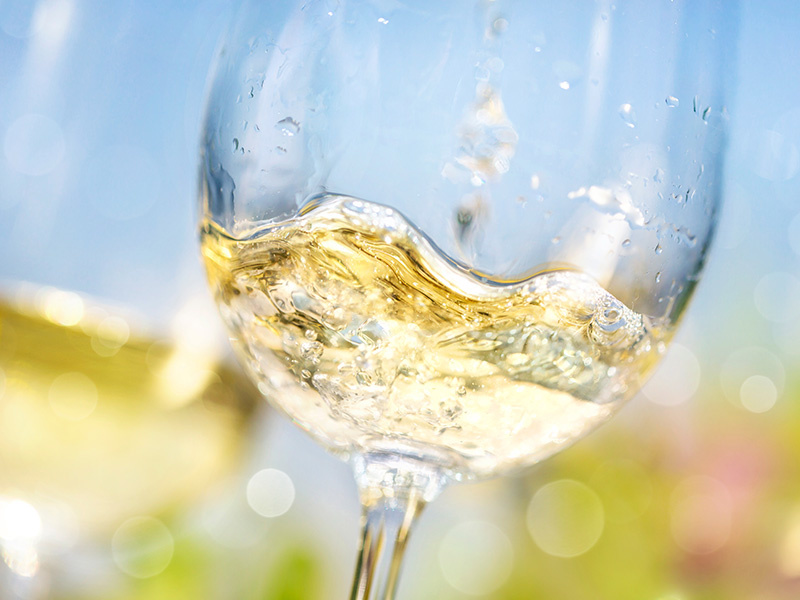 We've all heard of someone having a piercing glance, but have you heard about a piercing white wine? In the case of glances, the term piercing often means that a person is looking especially intently at someone or something, to the point where it can make others feel uncomfortable. In the world of wine, piercing references those wines with high acidity. High acidity in a wine may make your salivary glands go into overdrive, jaw joint feel like it's gripped or locked for a split second, or maybe it makes your lips pucker
Acidity in wine is what keeps your wine tasting vibrant and not flat or flabby, in wine speak. Acidity is expressed via a measure of the pH. Most wines have a pH that falls within a range of 2.5 to 4.5, where the lower number represents the higher amount of acidity. To make things even more complicated, the pH scale is a logarithmic, so mathematically, a wine with a pH of 3 is ten times more acidic than a wine with a pH of 4. Math!?! 
In yet another attempt to wrap one's head around acidity, the predominant sugared cola beverage (you all know it – think polar bear) has a pH of 2.5 and lemonade has a pH of 2.6. While both beverages certainly have acidity, they don't come across on your palate as being the raging-high acidity they actually are, because of the sugar content. Sugar can mask your perception of acidity. The acidity is still quite there, and your salivary glands will continue to work in overdrive. Sigh!?!
Now what about wine, Kathy, aren't we here to talk about wine? The pH scale would tend to run, as follows: cola beverage (2.5), lemonade (2.6), white wine (2.7 to 3.5), red wine (3.5 to 4.5), coffee (4.5 to 5.5), milk (6.6), and water (7 – considered neutral so not acidic and not alkaline [anti-acidity] ). 
Just one more thing about acidity: There are multiple types of acid in a grape. I'll save that for another discussion (or not). Suffice to say that the amount of acid in the grape depends on the type of grape itself; climates, as cooler ones will slow down the loss of acidity as the grapes ripen; and if the wine law allows, and the winemaker decides to, the wine can be boosted by adding tartaric acid, which is the predominant acid in grapes. In the US and certain other parts of the winemaking world, acid can be added to the grape must (juice, skins, seeds, stems) usually before fermentation. This is done to produce a brighter, more-balanced wine, if the vintage year was too warm to retain the desired acidity. 
Finally, I'll stop the geek acidity talk and get to our wines. Whew!?!  City Vino blog and newsletter readers, we present our piercing white wines for your second weekend in June, 2022, enjoyment. 
For our weekend tasting, we present the NV Montinore Estate Borealis, from the Willamette Valley in Oregon. The wine is a blend of 35 percent Müller-Thurgau, 29 percent Gewürztraminer, 24 percent Riesling and 12 percent Pinot Gris. Riesling is a high-acid grape, and is one of the parents of the crossing that is Müller-Thurgau included in this blend. Pinot Gris has medium-high acidity while Gewürztraminer is on the lower end, but blended with the others there is no shortage of piercing going on here. 
The Borealis is a non-vintage wine meaning that it includes grapes from more than one harvest in the blend. The reason for that is usually to create a wine that is to the winemaker's style, and/or to make up for some complexity that may be reduced due to the climate, if the wine was made from one single year that perhaps, wasn't stellar. Aromas of orange blossoms, ripe melon, guava, and kiwi waft out of the glass. The wine has flavors of juicy stone fruit, like peaches and nectarines, Meyer lemon, ripe pear, and a drizzle of caramel.
Next up in our piercing white line-up is the 2020 Pares Balta Blanc de Pacs, from the Penedes region in Catalonia, Spain. The wine is made from 51 percent Parellada, 29 percent Macabeo, and 20 percent Xarel-lo, which are the same grapes used to produce the sparkling wine, Cava. The Parellada provides delicate floral freshness to the wine, the Macabeo provides fruitiness, and the Xarel-lo provides high acidity, structure, and body to this blend. Orchard fruits dominate the nose on this wine, along with a squeeze of lemon. On the palate, more prevalent citrus than orchard fruits, with some floral and herb notes.
Grillo is a medium-high acidity grape that hails from Sicily. The 2020 Masseria del Feudo Grillo, from Sicily, is next up in our tasting of piercing wines. This lovely pale-colored wine has delicate aromas of lemon, gooseberry, honeysuckle, pear, acacia, and a whiff of grass. The palate features rich lemon curd, perhaps as intense lemon as a Jolly Rancher, without the sweetness. Along with the lemony goodness, you may find passionfruit, melon, and some dried herbs.
Our final wine in this tasting is the 2019 Wolfberger Pinot Gris, from the Alsace region, in France. This wine is 100 percent Pinot Gris and is off-dry. Due to the cool climate found in this region of France and the high acidity of the grapes used, it is not unusual to find off-dry wines as the sweetness tames or softens a bit of the acidity. The wine has aromas of yellow apples, white peach, and lemons. The palate continues with those notes of peach, apple, and citrus, plus hints of honey and stone.
This ends our "piercing" study of wine. If you are a fan of high-acid wines, but aren't sure whether the wine you pick up in the shop is one or not, look for clues in the tasting notes on the bottle. Words like Zippy, Mouthwatering, Tart, Zesty, Crisp, Racy, Brisk, and Bright should steer you to these types of wines.
Have a zippy week!  Cheers!