Bastille Day is celebrated on July 14th. It commemorates the storming of The Bastille, a medieval fortress, armory, and political prison, in Paris. Its fall was the French Revolution's flashpoint, and ultimately led to the French Monarchy's downfall and the creation of a republican democracy. On this day, the French celebrate "Liberty, Equality, and Fraternity".
On Bastille Day, Fredericksburg celebrates its relationship with our sister city, Frejus. Frejus is a sea-side town located in southeastern France's Provence-Alpes-Côte d'Azur region. Founded by Julius Cesar around 49 BC, Frejus's costal roadside location between Italy and Spain led to it becoming one of the most important ports in the Mediterranean, and the naval operations headquarters. In the modern era, summer tourists come to enjoy the beautiful Frejus beaches.
In 2015, Fredericksburg representatives, including Mayor Greenlaw, visited Frejus to celebrate the 35th anniversary of our sister city relationship.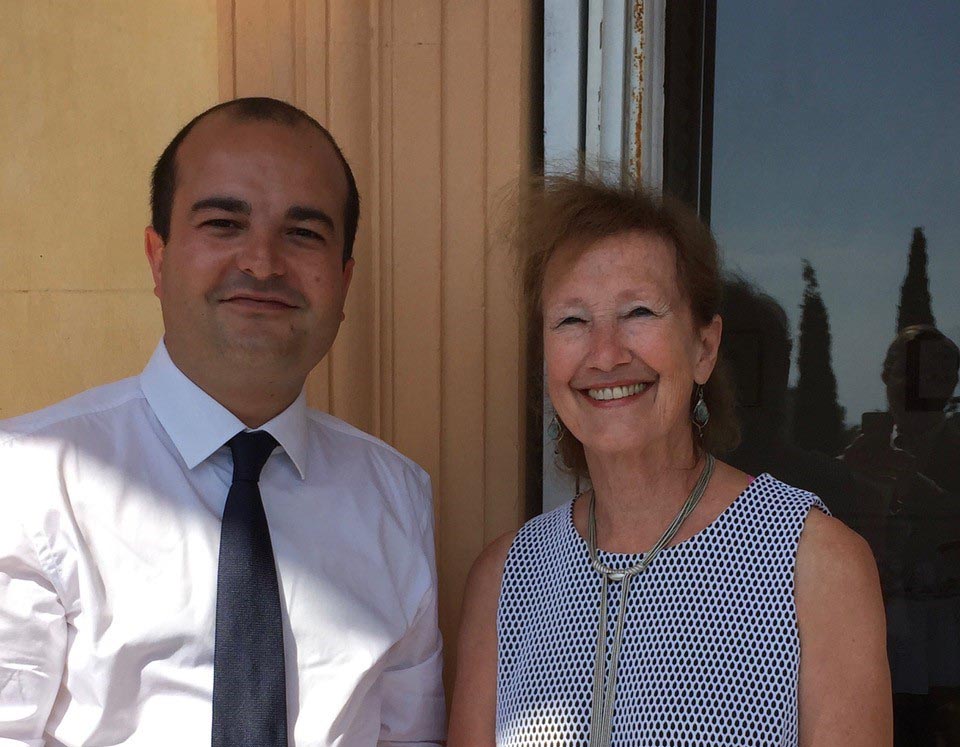 Mayor Rachline of Frejus and Mayor Greenlaw of Fredericksburg.
To learn more about Frejus, visit the Fredericksburg Sister City Association website. They will be holding a Bastille Day celebration on July 14 in Market Square from 6-10pm.
Frejus is located within the Côtes de Provence AOC wine region. This area is known for producing roses which have a copper or salmon color due to the volcanic soil. AOC rules dictate that at least 20% of the wine must be created using the saignee rose production method. A portion of the juice is bled out of the tank after a small amount of skin contact. This is done to achieve the desired color. The remaining juice is left with the skins for an extended period to make a more concentrated red wine.
The Le Saint Andre Figuièr Rosé exemplifies Provence Rose. It has the typical salmon color and is a blend of equal parts Syrah, Cabernet Sauvignon, Grenache and Cinsault. It has flavors of strawberry, raspberry, peach, and white flowers, with detectable salinity on the palate from the sea influence.