Posted on
Posted in Cabernet Sauvignon, California, cava, Champagne, chardonnay, Chenin Blanc, Chianti, cider, Dessert Wine, france, gewurtztraminer, Hungary, Italy, merlot, Port, Red Blend, Red Wine, Riesling, Sangiovese, spain, sparkling, Syrah, tempranillo, tokaj, traminiette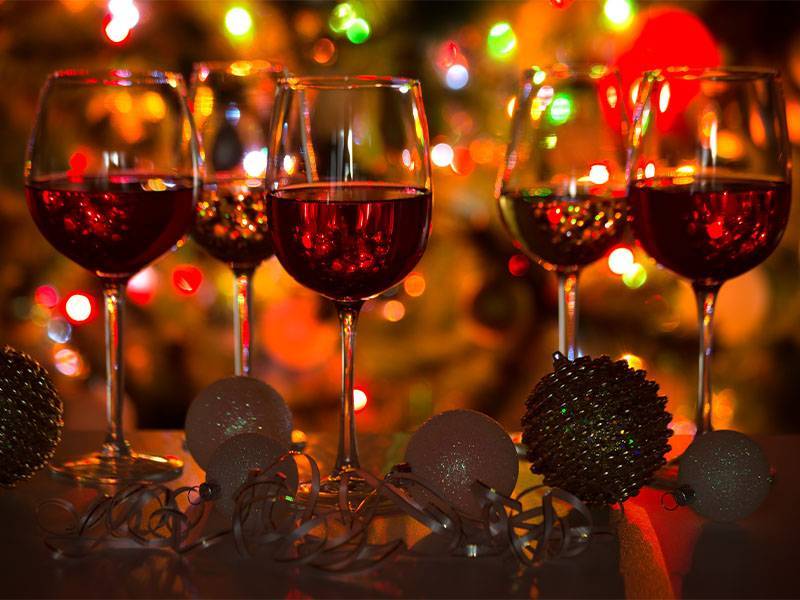 On the twelve days of Christmas my wine love sent to me:
 12 Drummers Drumming – Our drummers are going rogue and breaking out into their own rendition of "Wild Thang" after which they'll be enjoying a glass of Carol Shelton Wild Thing 2015.
 
 11 Pipers Piping – The pipers have finished their last performance of the season and have decided to change things up from their usual scotch whiskey and are relaxing with a big glass of Rack & Barrel Bourbon Barrel Red Blend 2016.
 
 10 Lords a Leaping – After an active day of leaping, Lords love to repose by the fire with a cigar and a nice glass of Croft Port Reserve Tawny Porto.
 
 9 Ladies Dancing – Following graceful moves on the dance floor our elegant ladies are drinking Roland Champion, Champagne Grand Cru Blanc de Blancs NV.
 
 8 Maids a Milking – Milking cows is hard work and the maids are have put their feet up on their milking stools and are kicking back with a lovely glass of The Shepherd Estate Red 2014.
 
 7 Swans a Swimming – After a beautiful day taking a dip in the pond, the swans are partaking in a glass of bubbly with our Issac Fernandez Biutiful Cava NV
 
 6 Geese a Laying – Those silly geese have gone a-fowl and are imbibing on Virginia's own Rogers Ford Sumerduck Rose NV. Duck, duck, goose, indeed.
 5 Golden Rings - Nothing shimmers like gold in your glass more than a rich, luscious Sauterne or Tokaji. Try our Lauvignac Sauternes 2014 or Evolucio Tokaji Late Harvest 2015.
 
 4 Calling Birds - One of the most famous calling birds is a rooster, no? Did you know that a rooster is the icon for wines from Chianti, Italy that are designated as Chianti Classico? Check the label on our San Felice Agricola Il Grigio Chianti Classico Riserva DOCG 2013.
 
 3 French Hens – Our French hens are staying local for the holidays with the Chateau de Valmer Vouvray 2016 from the Loire Valley made from the C-hen-in blanc grape.
 
 2 Turtle Doves – The love birds are reveling in the season with this lovely Cardinal Point Vineyard Quattro 2017.
 
 A Partridge in a Pear Tree – Suggest that the partridge find his own tree and taste the orchard in your glass with Blue Bee Aragon cider