Posted on
Posted in Cabernet Sauvignon, Gewürztraminer, merlot, Pinot Grigio, Primitivo, Red Wine, Riesling, Sauvignon Blanc, Shiraz, Syrah, White Wine, wine, zinfandel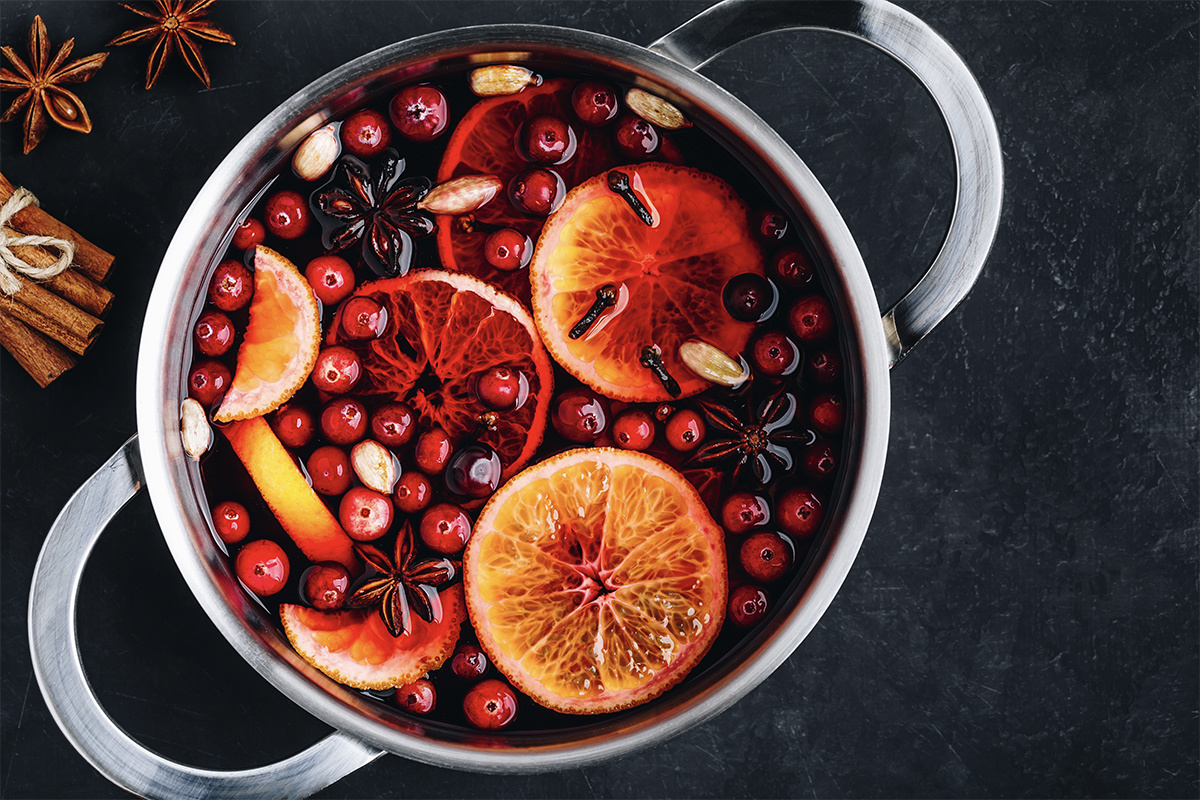 As the temperatures drop and our bodies attempt to adjust to the cooler temperatures of the fall into winter, we don heavier fabrics or add layers of clothing, sit in front of a roaring fire in the firepit or fireplace, and look to hot drinks to warm us from within. This week's blog features warm wine concoctions, to ease in with the seasonal temperature transition.
One of the most classic warm alcoholic beverages is the Hot Toddy. It is usually made with brandy, whiskey, or rum, blended with honey and spices. Here is a recipe for a Riesling Hot Toddy that pairs Riesling with a splash of brandy, honey, bay leaves, and lemon.  As an alternative, Gewürztraminer would also work great in this recipe.
Most think of mulled wines as being red wine-based, but white wine can also be used. In this recipe for Mulled White Wine, dry white wine is paired with brandy, honey or sugar, cloves, cinnamon, orange, and star anise. For the wine, a nice fruity Pinot Grigio or Sauvignon Blanc would work. The recipe calls for 2 bottles of wine, but can be halved. Remember that leftover mulled wine could be stored in the refrigerator for the next day but remember to remove the clove, cinnamon stick, and star anise. Otherwise, there might be too much steeping going on. Warm any leftovers gradually.
Nothing warms more than a delicious mug of hot cocoa. One thing better than hot cocoa would be hot cocoa spiked with red wine. The following recipe for Red Wine Hot Chocolate blends dark chocolate, cocoa powder, brown sugar, cinnamon, and milk with fruity red wine like Merlot, Shiraz or Zinfandel. This can be made with Ruby Port, if you skip or reduce the brown sugar, as the wine will provide sweetness on its own.
If you are more of a coffee drinker, we've got you covered with this Cabernet Latte. This recipe starts with the making of a red wine syrup. You do not have to use Cabernet, and can easily substitute just about any robust red wine in its place that will stand up to the espresso.
For the traditionalists among you, we take you to Germany, home of the classic mulled wine known as Glühwein. The recipe is rich with flavors of orange, lemon, cinnamon, allspice, anise, cloves, and juniper. While this hot beverage is usually served at the Christmas markets in Germany and Alsace France, it can be enjoyed anytime.
Any discussion of warm wine beverages has to include Norwegian Gløgg, which is a mulled wine treat. This recipe for Gløgg matches red wine, spices including fresh ginger, with aquavit which is Norway's national spirt. Either vodka or cognac will serve as substitutes for the aquavit.
There are many recipes around for mulled wine made with red wine. Some recipes add apple cider and other fruit juice. This recipe for Hot Spiced Wine keeps things simple by adding orange juice, water, honey, lemon or orange zest, cinnamon, and nutmeg to red wine.
Allow us to help you with your wine choice to make any of the warm wine concoctions. If the recipes above are a bit too many ingredients or too time consuming to make, remember that City Vino has Lt. Blender Mulled Wine Freezer/Hot Drink mixes ready for your mulled wine making pleasure. Simply pour in a bottle of red wine into the pouch, fill with water, and shake. Then pour into a saucepan or crockpot to warm up. All spices are already in the mix, add a slice or orange or cinnamon stick to garnish!