Posted on
Posted in carricante, catarratto, cerasuolo di vittoria docg, Etna Doc, Frappato, grillo, IGT, inzolia, Italy, Marsala doc, nero d'avola, Sicily, Sicily DOC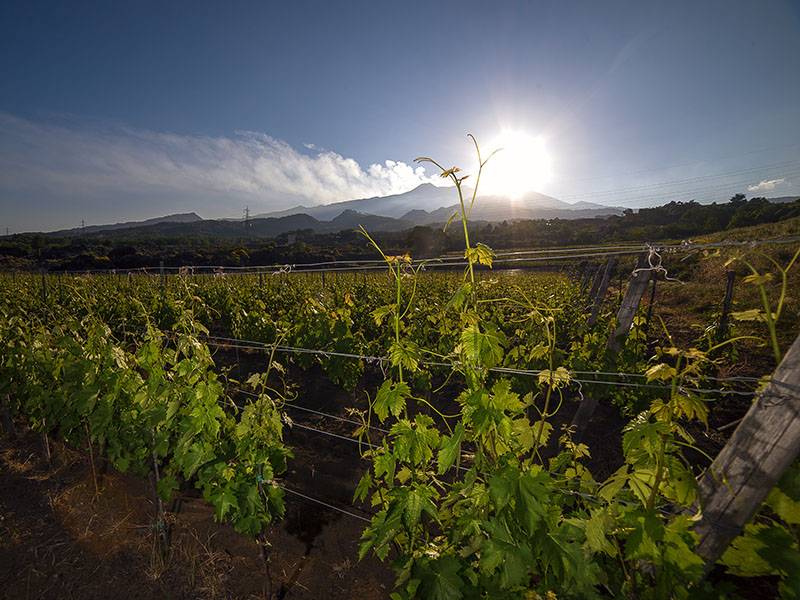 With a perfect Mediterranean climate, Sicily is the home to a wide variety of grapes and styles of wine.
Terroir
Located off the "toe" of Italy, Sicily is the largest island in the Mediterranean. It is a large, volcanic island with Mount Edna towering on the horizon. The rick, dark volcanic soil produces wine with high acidity, fragrant aromas and minerality.
Due to Sicily's location, grape growers enjoy long, sunny days during the growing season, so grapes easily achieve full ripeness. Minimal rain and ocean breezes help keep the grapes dry and reduce the likelihood of rot.  It is for this reason that most wines out of Sicily are produced organically, since there is very little need to use chemical sprays.  
Grapes
Sicily is home to a variety of indigenous grapes that play significant roles in their most popular wine appellations. 
Nero d'Avola – The most popular grape varietal in Sicily, it is often compared to Syrah. Nero d'Avola creates a full-body, high-tannin wine with cherry and plum flavors. 
Nerello Mascalese – Mostly grown on the slopes of Mount Etna, Nerello Mascales is described as having the red fruit flavors and perfumed aromas that are a cross between Pinot Noir and Nebbiolo.
Frappato – Frappato creates a fruity, easy-drinking, low-tannin wine with floral aromas. 
Grillo – Often compared to Pinot Grigio or Soave, Grillo produces fresh, fruity wines with hints of nuttiness and flint. 
Catarratto – The most widely planted white wine grape in Sicily, Catarratto has a relatively neutral flavor that makes it a great blending grape for wines like Etna Bianco and Marsala. 
Carricante – Mostly grown on Etna, wines made from Carricante have crisp acidity and zesty citrus and herbal flavors. 
Inzolia – Inzolia has a distinct minerality and nuttiness, accompanied by citrus and floral notes.
Appellations
Sicily has 25 designated wine appellations, a handful of which are commonly seen in US.
Terre Siciliane IGT (Indicazione Geografica Tipica) – IGT appellations are the most basic wine appellation outside of table wine. The Terre Siciliane IGT covers wines made anywhere on the island that don't meet the criteria for a stricter area-specific appellation. Wines can be made from a large variety of indigenous and international grapes.
Sicily DOC (Denominazione di Origine Controllata) - Similar to Terre Siciliane IGT, the Sicily DOC covers wines made anywhere on the island but they must meet slightly stricter regulations regarding how the grapes are grown and how wine is produced. For instance, the grapes for wines that qualify for Sicily DOC must be grown without the use of chemical fertilizers. 
Etna DOC – The first DOC region in Sicily, this appellation covers the wines made from grapes grown on the slopes of the Etna volcano. Vineyards are primarily located on the eastern side of the volcano and can be planted as high as 1200km above sea level. The altitude provides a cooler and longer growing season so the grapes are able to fully ripen while maintaining a high level of acidity.  Etna Rosso is a blend of predominantly Nerello Mascalese with a small amount of Nerello Cappuccio, another local grape. Some producers choose to make IGT-level wines that are 100% Nerello Mascalese and are subject to less strict rules than Etna Rosso. Etna Bianco is largely made from Carricante. 
Cerasuolo di Vittoria DOCG (Denominazione di Origine Controllata e Garantita) – DOCG is the highest level of wine appellation in Italy and Cerasuolo di Vittoria is the only one in Sicily. The wine is a blend of Nero d'Avola and Frappato, with Nero d'Avola making up a larger percentage of the blend.
Marsala DOC – Possibly the most famous and oldest wine style produced in Sicily, Marsala is a fortified wine that is generally made with Grillo, Catarratto and/or Inzolia.