Posted on
Posted in Cabernet Sauvignon, Carinena, Granacha, Macabeu, merlot, Parellada, rose, spain, Spanish Wine, Syrah, tempranillo, Xarel-lo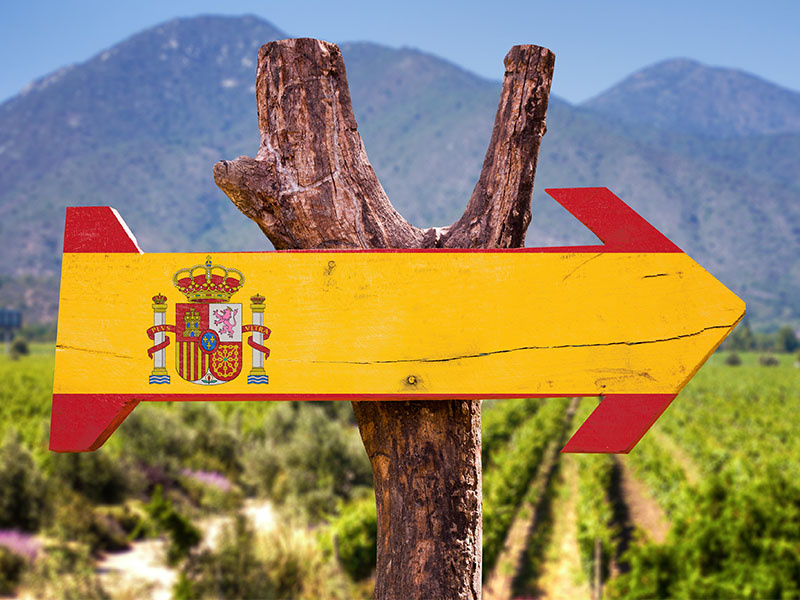 We start our quick tour of Spain with a stop in Ribera del Duero, which is in the country's northern plateau. Red wines from this region are made from the grape Tempranillo.
Tempranillo, as of 2015, is the third most planted grape worldwide, with 88% of it grown in Spain. Reds labelled from the following regions: Rioja, Valdepeñas, and Ribera del Duero will be made from Tempranillo. Tempranillo is also known as Ull de Llebre, Cencible, and Tinta del Pais in Spain; and as Aragonez and Tina Roriz in Portugal. It is often referred to as Spain's noble grape. Wines made from this grape are usually ruby red in color, with aromas and flavors of berries, plum, tobacco, vanilla, leather and dried herbs.
Our featured wine from Ribera del Duero is the Bodegas Epifanio Rivera Ribera del Duero 2017, which is made from 100% Tempranillo. It is a full-bodied wine with aromas and flavors of black fruit-like blackberries, along with black licorice. Oak aging has added notes of vanilla, toast and spice. The wine has bright acidity, with silky ripe tannins.

The next stop on our tour takes us to Penedès, which is located in the north-eastern part of Spain, in the Principality of Catalunya. For reference, Barcelona is the capital of Catalonia. This region is probably best known for its production of Cava, a sparkling wine which is made from the white grapes Parellada, Macabeu, and Xarel·lo. The region also makes still wines from these grapes.

City Vino's featured wine from Penedès is the Parés Baltà, Penedès Blanc de Pacs 2017,  which is made from grapes that are organically and bio-dynamically grown. This still wine is made from the region's traditional Cava white varieties and is comprised of 47% Parellada, 31% Macabeu & 22% Xarel·lo. The wine is vinified and aged in stainless steel. The wine has aromas of honey, grapefruit and pineapple, with flavors of melon, citrus, honey, and wet stone.

Our last stop takes us to the village of Capçanes, in the province of Tarragona, which is also in Catalunya. The vineyards of Celler de Capçanes are on steep slopes and terraces, and the vines are protected by the mountain range of Llabeia. Some of the vines are up to 110 years old. The featured wine is the Capçanes Montsant Mas Donís Rosat 2018  . The wine is made from 80% Garnacha, 5% Syrah, 5% Cariñena, 5% Cabernet Sauvignon and 5% Merlot. This rosé is made via the saignée method, wherein the grape juice is kept in contact with the skins for a short period of time in order to pick up a lovely color and a small amount of flavor from the skins.  Each variety is vinified separately in stainless steel tanks after being pressed (separating skin and seeds from the juice) after about 4 hours of skin contact. The components are then blended to make this wine. The wine has vibrant red fruit flavors of strawberry and raspberry, with a hint of fresh herbs and spice, and a long fruity finish.