Posted on
By Terri Hyde
Posted in aligote, cabernet sauignon, California, chardonnay, Chile, france, Italy, merlot, New Zealand, Oregon, pinot gris/pinot grigio, pinot noir, Sauvignon Blanc, Washington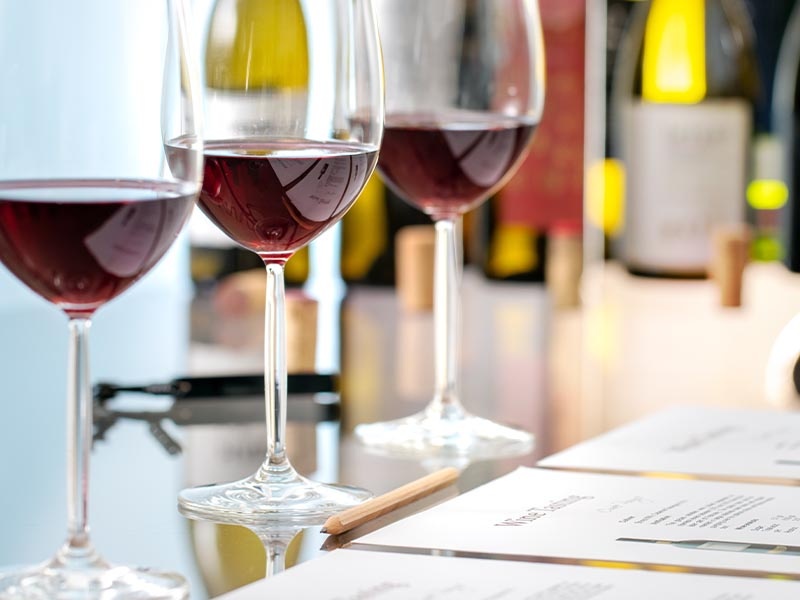 With the back-to-school season upon us, this is a good time to go back to "wine" school and get down to basics; to go back to the root of your wine enthusiasm. Whether you drink wine for sport or edification, it always enriches the experience to get down to the roots. Going back to basics is always a good exercise, to not only enhance your experience, but to refresh the mind and awaken your palate to new experiences.
Why go back to the basics? "I have been experiencing/drinking wine for years," you say. "I know what a Chardonnay tastes like, I know what Merlot tastes like, etcetera, etcetera." But have you gone back to the benchmarks of Chardonnay, Merlot, Cabernet Sauvignon, or Pinot Noir? You might be surprised if you reach back to the good ol' standards and do some comparisons. In fact, you might find a new favorite, or discover you like another style of your favorite grape. A great exercise to start with is to grab a few bottles of the same varietal but from "benchmark" old world regions.
Keep the exercise simple. Go with a single varietal, or a wine with at least 80 percent of a varietal. For whites, choose a Chardonnay from California, a White Burgundy (most times referring to Chardonnay sometimes referring to Aligote, from Burgundy or "Bourgogne,") and one from Chablis (which is always Chardonnay)—the benchmark being the White Burgundy.  Choose a Sauvignon Blanc from New Zealand, one from the Sancerre region in France, and one from Chile. Another white to consider would be Pinot Gris, choose one from Veneto, Italy, from Washington State, and from California.  For Reds, choose a Merlot from California, one from the right bank in Bordeaux (St. Emillion is an easy-to-find area), and one from Washington State. Cabernet Sauvignon from California, Chile and Left Bank Bordeaux (Look for St-Estèphe, Pauillac, St-Julien and Margaux). A Pinot Noir from Oregon, Burgundy (Red Burgundy or Bourgogne), and Northern California. To challenge yourself, you could conduct the tasting blind, and maybe invite a few of your closest wine friends to join you.  Have an impartial person bag and number the wines.
The benchmark for the Chardonnay would be the white burgundy, with characteristics of apples, pears, and possibly some brioche notes, with medium acidity and, if oaked, would be very well integrated so as a complement, and not in the forefront. In comparison, you might notice mineralities and wet stone in the Chablis, and most likely more oak presence with some diacetyl, and possibly more ripe or bruised apples, crisp green apple, in the California Chardonnay, depending on what area you choose. Chardonnay can be a chameleon, being affected by its terroir and production. For the Sauvignon Blanc, we recommend using the New Zealand as the benchmark. Characteristic notes being hay, gooseberries, lemongrass, and kiwi, whereas the other too will be lighter on all those attributes, and the Sancerre will be a little more restrained, with notes of guava and more floral, possibly fuller-bodied, a little less acidic, and a bit more oiliness (covers the tongue) on the palate. As for the Pinot Gris, you can use the Italian one as your benchmark, but in this case, it is up to your discretion. "Pinot Gris" is the grape but is also a style.  Pinot Grigio is the style in which Pinot Gris is done in Italy as well as many other regions, with crisp citrus notes of lemon lime, possibly, high acidity.  "Pinot Gris," the style as done in Washington state, is a little more stone fruit, and a little fuller-bodied; more elegant, if you will.
For the red wines, the benchmark for Merlot would be a right bank Bordeaux with at least 80 percent Merlot. The benchmark for Cabernet Sauvignon would be a left bank Bordeaux, where the Cab is at least 80 percent. You will find that the focus in wines from Bordeaux is on balancing the fruit with oak as an integration, with possible notes of dark raspberries, eucalyptus, and vanilla in Merlot, and black cherry, baking spices, cedar, and leather in the Cab Sauv. Both will have an average alcohol level. In comparison, a Merlot from California may be more fruit-forward, with notes of blueberries, or red plums, and depending on any blending or oak treatment, may be more one-dimensional.  The Cab from California might have a heavier oak presence, with dark fruit and a bit more cedar notes, and a higher alcohol content from fruit ripeness. A Cabernet Sauvignon from Chile would be old-world style, as in France, with fruit notes of blackberry, black currant and vanilla, chocolate, tobacco, and cedar. For the Pinot Noir, again starting in the old world, a red burgundy is going to be light in body upon appearance, and filled with black cherry, dark plum, and hints of baking spices like cardamum. Most Pinot Noirs from Oregon mimic the flavor profiles of Burgundy, especially those from the Willamette Valley area; however, in other areas and in California some have a bit higher alcohol and are more fruit-forward, with a stronger presence of black cherry notes.
Keep this exercise simple or expand it and challenge yourself and your friends. For homework, browse through wine notes on Wine Folly or from Jancis Robison, or your favorite wine resource.  Start with the benchmark wine, take some notes, and then follow through with comparisons, or do the whole thing blind, and see if you can pick out the new world vs old. Take time with each wine to examine the color, the flavors you are getting, whether it has high alcohol presence, the viscosity and make it interactive with your "classmates." There are so many ways you can tailor this, so have fun with it! If anything, this exercise might cause you to be more aware of the wines you are tasting … not just drinking.
"The best way to learn about wine is by drinking."
  —Alexis Lichine