Posted on
Posted in argentina, Cabernet Sauvignon, Carignan, france, grenache, Italy, Malbec, merlot, Nerello Mascalese, Petit Verdot, Syrah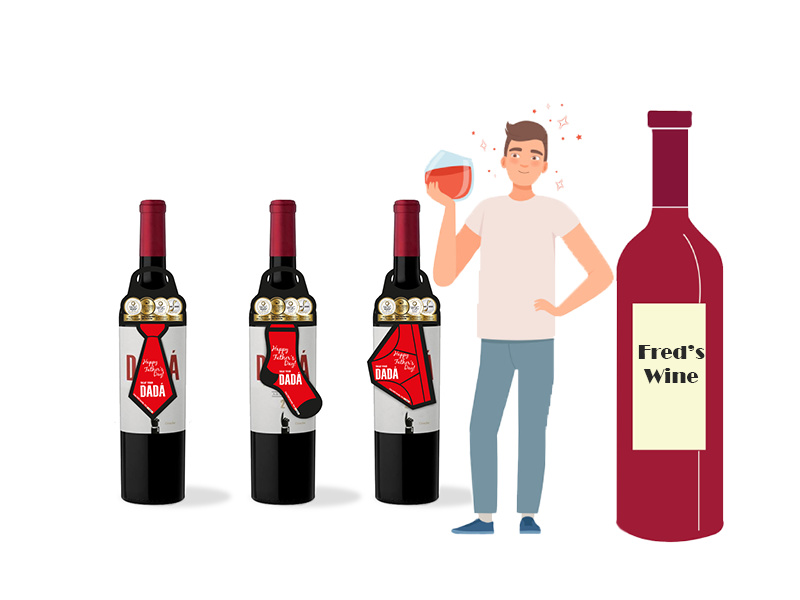 Father's Day is once again upon us, and to that we say, "Choose Red for 'Fred'." Pun totally intended. Whether your father is named Fred, George, Paul, Ringo, or John, this year consider the gift of a red wine, or two or twelve.
The fathers in "Fred"ericksburg and surrounding areas may be fans of white, rose, and red wines equally, but City Vino's focus for our weekly wine tasting will be red wines. C'mon, "Fred," let us get our travel on and try some red wines! 
"Fred's" first sojourn is to the Rhône Valley, which yields us the 2020 Domaine Hautes Garrigues Cotes du Rhône. The blend, which is not uncommon to the southern Rhône, is 60 percent Grenache, 20 percent Syrah, 10 percent Mourvèdre, and 10 percent Carignan. The grapes for this wine were harvested by machine, in early mornings, to retain the freshness of the fruit, which includes flavors of black cherry, stewed strawberries, and raspberries. In addition to fruit, there are notes of tomato leaf, cacao nibs, earth, and forest floor. As an entry-level, dry wine from this region, it has medium acidity and body, young and ripe tannins, and a medium finish. This food-friendly wine would pair well with grilled meats and vegetables, foods slathered with barbeque sauce, including pick-the-meat-off-the-bone, slow-cooked ribs. 
The term garrigues in the name of the wine is one that is used to describe scrubland, especially that found in southern France. Wines produced from grapes grown near the scrubland are said to have floral, herbal, or earthy scents, which are indeed found in this Domaine Hautes.
Next up, we take "Fred" to the Mendoza Valley, in Argentina, for the 2019 Ben Marco Malbec. The wine is characteristically Malbec, with notes of violets, blackberries, and coffee. This wine comes from Los Chacayes, with its rocky, sandy loam soil that helps to prevent excessive growth while allowing the grapes to gradually ripen, without losing acidity.
The Ben Marco Malbec has bright acidity, and firm tannins, culminating in ample finish to tie all the goodness together. In addition to the violets, blackberry, and coffee aromas and flavors, this wine shows cassis, and oak-provided vanilla and spice, from its 11 months of aging in second-fill French oak barrels. This is definitely a wine to pair with hard cheeses, pasta with meat sauces, and grilled red meats, sausages, or pork.
"Fred" goes to the island of Sicily, where he encounters the 2019 Vento di Mare Nerello Mascalese Terre Siciliane IGP. This wine is made from 100 percent Nerello Mascalese, which grows most notably in the volcanic soils on the slopes of Mount Etna, in Sicily. Wines made from this grape tend to be fresh with fruitiness, minerality, and earthiness, along with a hint of fresh herbs. Often the wines have a bit of perfumy notes that remind one of Barolo or Barbaresco wines made from Nebbiolo. 
The Vento di Mare was aged in stainless steel tanks in order to retain the fresh fruit aromas and flavors to balance the high acidity and high tannin that come together in this fully bodied wine. Characteristics of this wine may include blackberry; blueberry; bramble; raspberry; and herbs, including rosemary and sage. Pairing suggestions for this wine would include grilled or roasted meats and vegetables. 
The final stop for red for "Fred" is to Bordeaux, for the 2012 Château Cambon la Pelouse Cru Bourgeois Haut-Medoc. This winery is located just outside of the infamous Margaux appellation, with a rich and long history despite having changed hands many times, including being seized as a national property during the French Revolution. In modern days, the vineyards cover 149 acres, growing Merlot, Cabernet Sauvignon, Cabernet Franc, and Petit Verdot, and have been converted to being sustainably and organically farmed.  
The 2012 Chateau Cambon Le Pelouse is a blend of 48 percent Merlot, 47 percent Cabernet Sauvignon, and 5 percent Petit Verdot. It is wise to decant this wine for an hour, minimum, to allow it to open up and show its potential. The aromatics include black cherry, rhubarb, strawberry, rose, lavender, and leather. On the palate, due to the bottle aging, the fruits are less overt and take on more stewed, cooked, or dried qualities. There are many layers to this wine that have come with time, as there are meaty and savory qualities emerging with vanilla, toast, and truffle. The wine has a medium-plus body and high, but very smoothing tannins. 
For Le Pelouse, we suggest pairing with dishes that play off the earthy, mushroom, and truffle notes like mushroom risotto, grilled portobellos, steak with a side of sauteed mushrooms, or a truffled dry sausage. Other pairings that would be divine may include bacon-cheddar burgers, rich stews like goulash, and aged cheeses. Now we are hungry.
We hope you have enjoyed our Choose Red for "Fred" road trip. We raise a glass of red goodness to you on your special day, "Fred." Happy Father's Day, "Fred" and all.