It is not the season of the year, yet, where the word "hark" is used freely in word and song, but in this case "Hark" is quite appropriate to this week at City Vino and to October, which is Virginia Wine Month.
Our timely "Hark" in this situation is Hark Vineyards, in Earlysville, Virginia

Hark Vineyards is a relative newcomer to the Virginia wine industry. Hark is owned by Candice and Aaron Hark. In 2015, they purchased seventy acres of land in Earlysville that is now the vineyard and winery. Aaron was attending a class at Piedmont Valley Community College (PVCC) on Viticulture when he fortuitously met instructor and winemaker Jake Busching. Jake signed on as a consultant in 2016 and then became Hark's full-time winemaker in 2017. 
In 2016, eight acres were planted of Chardonnay, Merlot, Petit Verdot, and Cabernet Franc. Petit Manseng was added in 2017. An additional ten acres that adjoined the property were purchased, bringing the property size up to eighty acres. Construction on the wine production building finished in May of 2019, with the first harvest processed on site that fall. Doors to the winery opened on Friday October 11, 2019.
For me, this is an interesting blog to write, because I consider both winemaker, Jake Busching, and associate winemaker, AJ Greely, to be friends. I met them through wine, of course, but they are truly special people, once you get to know them. I have also had the good fortune to meet the Harks several times. 
Jake Busching has been around Virginia wine for well over 20 years, with an impressive resume of working with or for wineries like Pollak Vineyards, Grace Estates Winery, Michael Shaps Wineworks, Jefferson Vineyards, Keswick Vineyards, and now Hark. Jake has his own label under Jake Busching Wines. I could share funny stories about Jake, but I will leave you to check out his Instagram account and see what he is passionate about, besides working in the vineyards and making darned fine wine. Let us not forget AJ Greely who works closely with Jake to produce those amazing wines!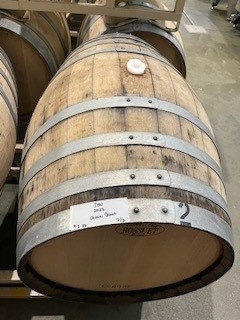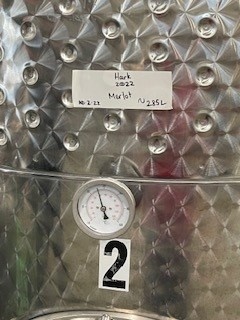 Recently, needing time out of the house, I drove to Hark to drop a bag of Chenin Blanc wine samples from a class at Capital Wine School for Jake to taste. Knowing that Jake and AJ were busy processing grapes, I tried to make it a quick visit. I got hugs, had laughs, shared wine tales, and got to taste some of the 2022 wines in progress, including Sauvignon Blanc, stainless steel Chenin Blanc, Chenin Blanc aging in a refurbished cognac barrel, and Merlot. The only word I can conjure up is DELICIOUS. I cannot wait for these wines to make their appearance. 
Speaking of Hark Vineyards and Jake Busching Wines, City Vino has a treat (no tricks, I promise) for you both in the shop and for this month's Wine Cru. This weekend in the shop, we will be pouring four of Hark Vineyards fantastic wines: 2021 Pinot Gris, 2021 Virginia Verde (100 percent Vidal Blanc, harvested early to make a Vinho Verde-style wine with acidity), 2019 Merlot (you are going to love this), and 2019 Petit Verdot (won a gold medal in the Monticello Cup). 
On Friday October 21st, from 7 pm to 8:30 pm, we have a special guest at the monthly Wine Cru event. AJ Greely, winemaker for Hark Vineyards, will be in the shop talking about their venture into starting and running a winery. She will be pouring the 2019 Hark Petit Manseng and the 2017 Jake Busching Wines F8 (blend of 60 percent Tannat and 40 percent Petit Verdot). The F8 is a bit of a cult wine here in Virginia among VA wine lovers. Be sure to grab a bottle while you can! 
If you could not tell, I am an enthusiastic fan of Hark Vineyards and Jake Busching Wines. The wines are some of the best wines from across the state of Virginia, and the fact that the people involved in the wine's production are talented, warm, and funny makes it all the better. Wine with friends is the best!