Posted on
Posted in brachetto, chardonnay, france, Furmint, Germany, Italy, macabo, pinot noir, Riesling, Sangiovese, Sauvignon Blanc, spain, tempranillo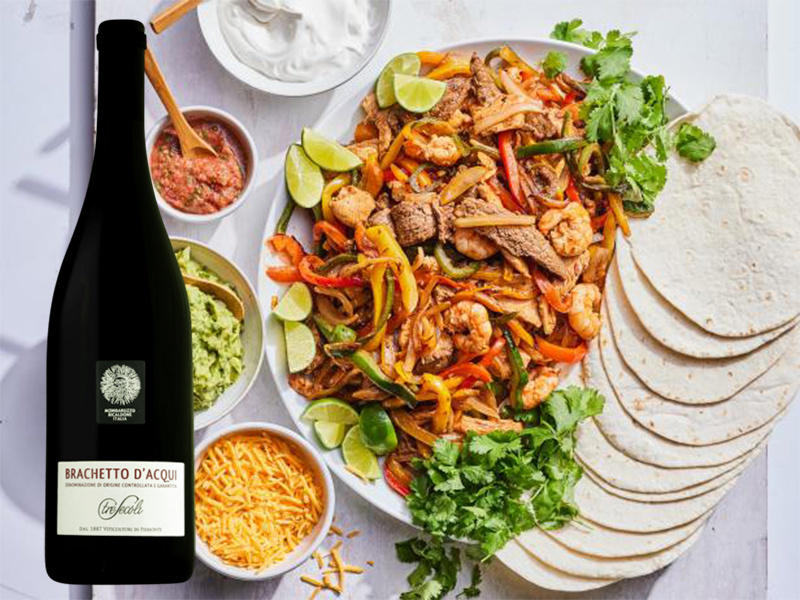 With Memorial Day Weekend approaching, everyone is anxiously awaiting the kickoff to the summer season. Not officially, of course, but most think of it as the gateway into warmer weather, trading the long sleeves for tank tops, packing up the thermals, and opting for a cool drink instead of a hand and body warmer.
Summer brings us the welcome warmth that we missed while putting on layers and turning up the heater, and with that welcome warmth, it pushes us to desire thirst-quenching wines over the ones that warmed our soul and body. Summer wine companions are a little different than those of winter, foods of the summer are crisp, fresh, chilled, and grilled.  Here are some suggestions for some pairings you might try this summer that might make you think outside the "wine" box.
Let's start with brunch! Of course, your first thoughts go to Mimosas, right? Instead, try a different summer cocktail approach. Try a cucumber mint French 75 with a veggie omelet. French 75 was a wartime cocktail, whose name was inspired by a gun. The French-made Canon de 75 modéle 1897, known as the Soixante-Quinze or Seventy-Five, was an agile rifle that could shoot faster and more accurately than any other. A regular French 75 has simple syrup, 1 ounce gin, 1/2-ounce fresh lemon juice, Ice and 4 ounces chilled brut Champagne. Add a bit of cucumber and a mint leaf for a unique drink that screams of a summer day. It's refreshing, crisp and a great companion with the veggie omelet, with the acid in the cocktail meeting up with the fat of the eggs. 
Headed to a barbeque and would rather pair your hot dog or hamburger with wine instead of a brewsky? Riesling is a wine we might often think of during the summer, but have you paired it with a hot dog?! A hot dog topped with mustard and German kraut – bamm, German AND summer pairing!  Score!  The acid in the mustard and kraut will marry with the acid in the wine, and the fruitiness will bring out the grilled flavors of the dog. Cheeseburgers and Sangiovese or Tempranillo are great companions! Make sure you either skip the bun or be sure it is a plain bun. The sweetness of a brioche or Hawaiian bun would mess with the flavors of the wine. Another pairing idea that might be new to you, but might surprise your senses, try grilled chicken fajitas with a Brachetto d' Acqui, which is an effervescent red wine with notes of wild rose and bursts of strawberries. It is low in alcohol, so as to not ramp up the spiciness, and fruity with a slight bit of sweetness to soothe the spice. For the vegetarians in the house, a wonderful pairing is an Oregon Pinot Noir and grilled Portabella mushrooms! Oregon Pinot has wonderful earthy, forest floor and dark fruit characters that would just melt in with the flavors of the mushroom. Top your mushroom with some mozzarella, parmesan, basil, and thyme.
Picnicking beach or poolside really calls for Sauvignon Blanc; crisp, refreshingly citrusy, and zippy. Go with a Sancerre from Loire as you enjoy the sun and cool breezes. It really does not need a companion, except for you and your lounge chair; however, it would be great with herbed goat cheese and crackers. Champagne is a perfect buddy to fried chicken and salty potato chips with French onion dip; take your picnic to a new level! It doesn't need to be a budget breaking bubbly; Prosecco or Cava would work wonderfully as well. Furmint is another great choice for picnic foods. The high acidity would be up for a dance with the fried chicken, or a ham sandwich! If you have never ventured to Furmint, it has some wonderful unique qualities of smoke, minerals and herbs. 
Try out some of the new-to-you recommendations and let us know how it was. If you find another discovery on the way … bonus! Happy <almost> Summer! 
Wines are like people. Some are perfect but boring, some are precocious but fail to live up to their promise, and some may be flawed, but the way they may develop is endlessly fascinating.
— Michael Broadbent