Posted on
Posted in Austria, Blaufrankish, Bulgaria, Carignan, france, grenache, Malbec, marselan, petit sirah, South Africa, st laurent, Syrah, zweigelt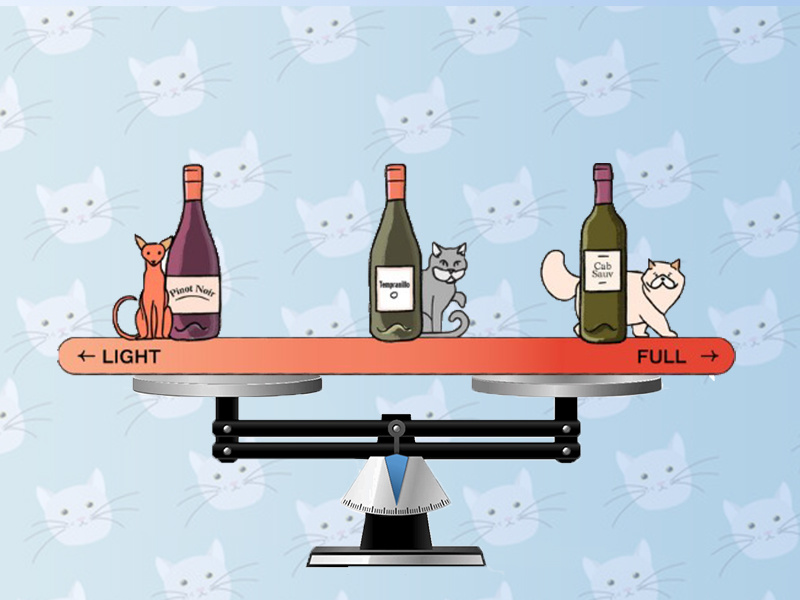 Good Day, City Vino, fans! Your somewhat humble (sorta, kinda) blog writer, Kathy, is glad to be back writing after a several week health hiatus. Yes, it started with mild COVID, which I had managed to elude for two and a half years. Then on its heels, a severe sinus infection chaser. My sense of smell and taste were altered for a good three weeks, but it's all coming back to me, so let's get to it and talk wine! Woo!
When it comes to wines, a "medium-bodied" falls between a light-bodied and a full-bodied wine. (Duh!)
That means that the alcohol level will probably fall in the 12.5-13.5 percent range, so you won't find the extra weight in your mouth that you would fine in a high-alcohol wine, like one that is 14-15 percent or more.
Alcohol is the major component that defines a wine's body. Other components of a wine's body include the grape itself. White grapes like Viognier, Roussanne, and Marsanne seem to have this oily, right texture that makes them feel heavier in your mouth. Also, aging the wine in oak will increase the texture and concentration of the wine, and would add weight to it.
Try to think of how milk feels in your mouth, and you can use that to get a sense of the body of wine.  Skim milk, that bluish thin liquid, would equate to how a light-bodied wine would taste in your mouth. Two to four percent milk, with the added milk fat, would be more in alignment with a medium-bodied wine.  Finally, think of a full fat "regular" milk or light to heavy cream. That weight would feel that way a full-bodied wine would.
For this week, City Vino is featuring four medium-bodied reds. The wines have some weight to them, but they aren't super-bold. We will take you on a whirlwind trip to France, Austria, Bulgaria, and South Africa, to taste some of those medium-bodied reds. 
The 2021 Domaine du Pere Caboche Le Petit Caboche Rosé comes from the Rhone Valley, in France, and is our first stop In our quests to taste medium-bodied reds. You may be thinking "Hey, Kathy, that's not a red." While it isn't technically a "red," the juice was in contact with the skins, and that provided color, tannin, texture, and yes—weight to the wine. This salmon-colored wine is made of 70 percent Grenache and 30 percent Carignan. Look for aromas of cherries, cherry pie, strawberries, rhubarb, raspberries, and citrus. The wine has lively acidity, with flavors of watermelon, peaches, apricots, pomegranate, and lime. roses are always a good barbeque wine. This particular wine would go well with charcuterie boards that are well-appointed with cured meats and soft cheeses. 
From Bulgaria, we travel northwest to Austria. Our featured red is the 2019 Steindorfer Apetlon Rouge, from Burgenland. The wine is a blend of 40 percent Blaufränkisch, 30 percent St. Laurent, and 30 percent Zweigelt. The deep-purple-hued Steindorfer has notes of black fruit, including blueberry, blackberry, and bramble, and a hint of cinnamon. Tasting this wine, we get the same flavors as the aromas with some added cherries, vanilla, earthy, and black pepper. Due to the predominance of fruit, pair this wine with sausages, duck, pizza topped with meat, pastas with red sauces, roasted chicken, turkey, pork, and mushrooms. 
Not familiar with the grapes in Steindorfer wine? Blaufränkisch is a red grape whose roots originated in Lower Styria, which is now Slovenia. Wine nerd facts will tell you that the grape is a naturally  occurring cross between Gouais blanc and Blaue Zimmettraube. You may have heard of either of those grapes, but Gouais blanc is most notably one of the parents of Chardonnay. St. Laurent originated here in Austria, and DNA has proven that Pinot noir is one of the parents. The final grape in our blend is Zweigelt which was created in 1922, by a viticulturist of the same name, and is a crossing of Blaufränkisch and St. Laurent, so there are some very interesting family lines in this wine! 
Next, we head southeast to eastern Europe and our destination, Bulgaria. Our wine selection from here is the 2018 Chateau Burgozone via Istrum Cellar Selection, which is 100 percent Marselan. In 1961, a viticulturist crossed Cabernet Sauvignon and Grenache near the town of Marseillan, in Southern France, hence its name. This crossing produces a wine that is deep ruby in color, and that could be compared to a Beaujolais. The vineyards in Bulgaria where this wine hails from are located on the slopes of the Danube river. The nose on this wine reveals strawberry, cherry, raspberry, red currant, black cherry, blackberry, and earthy leaves. The palate brings red fruit compote, rhubarb, black currant leaf, baking spices, and earth. Give this wine a light chill and sit on the porch, or pair with pizza, pasta, poultry, or vegetarian dishes. 
For our final stop, we head to the western cape of South Africa, to taste the 2020 Fairview Goats Do Roam Red Blend. Seeing the label for this wine always makes me smile due to its playfulness. The name of the wine is a play on the Cotes du Rhone, where the predominant grapes in this blend are notably grown. This blend has quite the variety of varietals in the blend. It is 39 percent Shiraz, 18 percent Grenache, 13 percent Mourvèdre, 8 percent Malbec, 8 percent Durif (Petite Sirah), 6 percent Tempranillo, 3 percent Cinsault, 3 percent Viognier, and 2 percent Tannat. Hold the glass to your nose and see what unfolds before you. For us, its blueberries, raspberries, red cherries, along with baking spice, earthy, and leather. Then on the palate, be on the look out for cranberries, red currants, tobacco, vanilla, oak, mushroom (earth), smoke, and cocoa. This is a dreamy wine to pair with traditional South African "braai," which translates to "burn the meat," so grilled meats, and no you don't have to burn yours. Other pairings would include sirloin strip with mushrooms and blue cheese, braised lamb, and roasted portobello mushrooms. 
We hope you enjoyed our journey to find some medium bodied reds. Cheers!