Posted on
Posted in Cabernet Sauvignon, chardonnay, chennin blanc, Cinsault, grenache, Malbec, Mourvedre, Petit Verdot, South Africa, Syrah, voignier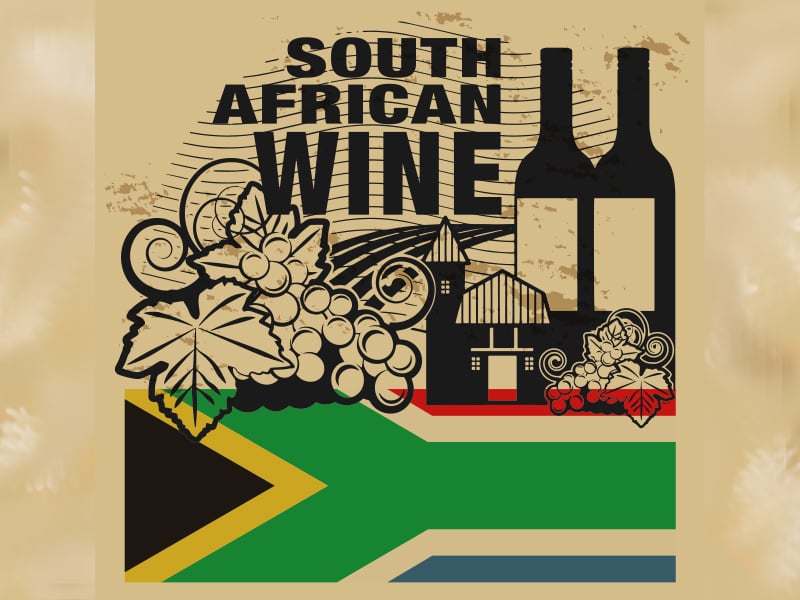 Travel right now happens to be quite restrictive, but that doesn't mean that you cannot explore a far away place, right at home, in your glass. This week, City Vino takes you to South Africa with four wines from the country. Let us embark on our wine trip.
Almost every wine-producing region in the world grows Chardonnay. Our first wine from South Africa is the 2018 Bayten Chardonnay, from Constantia. The wine is 100 percent Chardonnay, and features ripe citrus and orchard fruit, along with bright acidity. There is a creamy texture to the wine, with notes of brioche, butter, and a gentle salinity. The flavor lasts, and ends with hints of minerality. For pairings, we suggest rich fish dishes like salmon or tuna, poultry, pork, or dishes with a cream sauce. A favorite pairing of ours is chicken in cream sauce, with a rich oak-aged Chardonnay.
While Chenin Blanc's native home is the Loire region in France, it found a great home away from home and reputation in South Africa. Fifty percent of the world's Chenin Blanc is grown in South Africa, where it is also the most-grown grape in the country. The second featured wine for our journey to South Africa is the 2019 Bob's Chenin Blanc, from the Western Cape. The color of the wine is pale golden hay, with aromas of honeysuckle and other spring flowers. On the palate, the wine has flavors of guava and melon, and ends with a long, dry finish. With its pronounced fruitiness, this wine is an excellent pairing for spicy food. It would also pair well with spicy charcuterie, blackened fish, and mild or soft cheeses. A suggested pair might be Jamaican Jerk Chicken, which goes well with fruity bright wines.
The next two wines are both red blends. The first red is the 2017 Ernie Els Big Easy Red, from the Western Cape of South Africa. If the name Ernie Els sounds familiar it is because he has been a professional golf player for several decades, as well as having his own winery since 2005. Ernie's nickname is "The Big Easy"; hence the name of this wine. The wine is a blend of 60 percent Shiraz, 20 percent Cabernet Sauvignon, 5 percent Grenache, 5 percent Mourvèdre, 5 percent Cinsault, and 5 percent Viognier. For those who read who and stopped at Viognier, and thought "Hey, that's a white grape," you are indeed correct. In the northern Rhone Valley where Syrah (same grape as Shiraz) is king, a little bit of Viognier is often co-fermented with it. The Viognier adds a lift with a little bit of bright fruit, but it seems to help set the deep red color in the wine so the practice continues there, and Ernie's winemaker must agree with that practice. 
The Ernie Els Big Easy Red is a nice, complex wine, with flavors and aromas of blackberries, licorice, Chinese five spice, and smoked herbs. The wine was aged for 14 months in neutral oak barrels which were a mix of 80 percent French oak, and 20 percent American oak. Neutral oak are barrels used a number of times before they will not impact oak flavors in the wine. This wine pairs beautifully with meats off your grill, especially if you've added some seasoning to it like red pepper, sage, or rosemary like Mediterranean-Style Flank Steak.
Our final stop on the South African tour in your glass is our second red, which is the 2017 Klein Constantia Estate Red from, yes, Constantia. It is a blend comprised of 40 percent Cabernet Sauvignon, 25 percent Malbec, 19 percent Shiraz and 16 percent Petit Verdot. Flavors in this wine include blackberry, currant, chocolate, cinnamon spice, and walnut, with a hint of mint. This is an ageable wine, due to the tannins, but very enjoyable now, as well. The wine was aged for 12 months in French oak, of which 40 percent were new barrels.
This wine would definitely pair well with beef in many preparations, lamb dishes, charcuterie, and hard cheeses. Playing on the flavors in this wine, a Grilled Lamb dish with asparagus might be right on point. 
Join us this weekend to start the journey!