Posted on
Posted in Australia, Italy, Malbec, Muscat, nero d'avola, Portugal, romania, sangiovesee, Sauvignon Blanc, Syrah, Virginia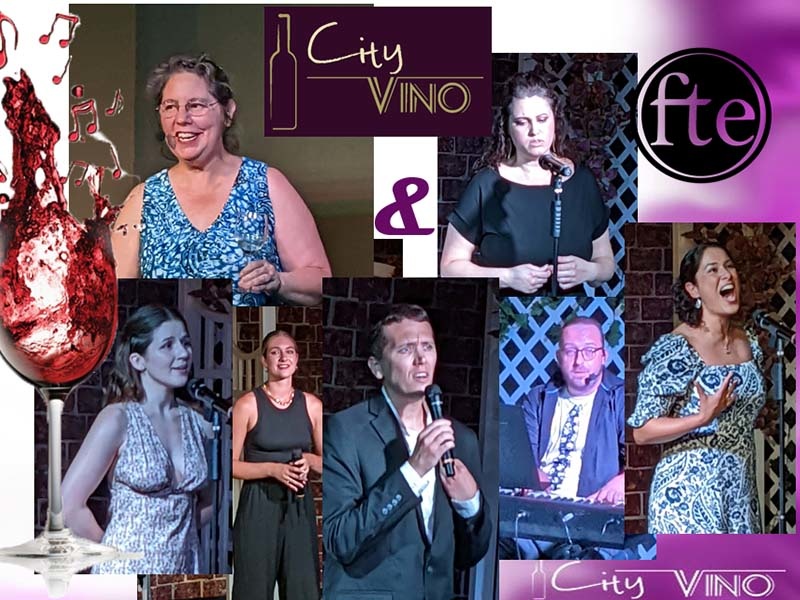 This past weekend, City Vino and Fredericksburg Théâtre Ensemble (FTE) joined forces for the 2nd Voices and Vines Signature Series. This is a fun-filled evening in the style of a musical cabaret, with a wine tasting component between songs. The first of the series was back in March, where we focused on blind tasting, because we had not attempted this kind of show before and really didn't know how it would be received. Having such a fun experience, the next topic chosen was "miscast," with the idea of a singer choosing a song that was completely out of character; eg. Justin Yates who sang "Fast Car," by Tracy Chapman. So much fun!
Now how were the wines miscast, you ask?
Sangiovese is a red grape known for being the star in Chianti, whether from regular bottles or the fun shaped bottles that were wrapped in straw baskets that you use as candle holders and let colored wax drip down after the wine was gone. Or was that just me? <crickets> Our wine is a white wine made from the Sangiovese grape and is the 2021 Selva Sangiovese Bianco, from Tuscany, in Italy. Aromas and flavors are of rose water, grapefruit, and lemon peel. This is a lovely wine to pair with lighter fare, like salads, non-fatty fish dishes, poultry, and appetizers.
From Portugal, we present the 2020 Quinta da Pacheca Moscatel Galego Branco, from the Douro Valley. This isn't a Port wine, though it comes from the same region where some of the world's best fortified wines are made. This wine is made from 100 percent Moscatel Galego (Muscat Blanc à Petits Grains), which in Italy is presented as bubbly Moscato, and in France as some lovely dessert wines from places like Minervois. Unlike the Italian and French versions, this is a dry white wine. It has aromas of stone fruits, orchard fruits, white blossoms, and honey. On the palate there is a bowl full of fresh ripe fruits like apricots, peaches, passion fruit, and more. 
In the world of "how do you pronounce this", we present the 2019 Cramele Recas Amber Natural Wine Trocken, from Romania, made with grape names like Tamaioasa Romaneasca and Feteasca Alba, along with the familiar Sauvignon Blanc and Chardonnay. The wine is what we would call an "orange wine," which means that it is white wine that has been fermented for some period of time with the juice in contact with the grape skins, like you would do when making red wines. This wine is indeed a pale orange or amber in color, with aromas of quince, pear, peach, lemon, honey, and a bit of earthiness. On the balance, there is apple, melon, ginger, light nutty notes (signs of slight oxidation), cinnamon, and mushroom echoing the earthy aromas. This is a dry wine with soft tannins from that skin contact. Pair it with cheeses, shellfish, tuna or swordfish steak, chicken, or turkey.
From our own Virginia, we have the 2020 Gabriele Rausse Turk Mountain Malbec, grown in Albemarle County. Malbec is known for being the grape in wines from Argentina and Cahors, in France. A soft hand was used in the production of this wine, which was fermented in stainless steel and aged in neutral French Oak for 10 months before bottling. That handling keeps the lovely floral notes of violet along with black cherries and plums. It is a great burger wine, or companion to a duck breast or funky cheeses.
The book of "I didn't know that grape was grown there" should include this next wine. The 2021 Unico Zelo Fresh A.F. Nero d'Avola is not from Sicily, as you might expect, but instead comes from down under in Riverland, Australia. The wine is a beautiful example of the grape Nero d'Avola, showing aromas and flavors of violets, black cherries, blackberries, black raspberries, black currant and baking spices, with hints of oak and cocoa. Soft tannins mean it's perfect for a light chill. This wine is a good partner for roasted chicken, grilled port, sausages, root vegetables or squashes.
Its bubbly and its red. Whaaaa. Yes, this is a red sparkling wine made from 100 percent Shiraz. We present the NV The Chook Sparkling Shiraz, hailing from South Australia. Fruity aromas of blackberry and cranberry are tied with notes of forest floor and earthiness. This is a fresh, vibrant sparkling wine with light tannins. It is made in the traditional method of sparkling production with the second fermentation occurring in the bottle. On the palate, the bubbles are steady with tart cherry, fruit compote and a tad of cocoa on the finish. A good wine to serve as an aperitif, or with a not overly sweet chocolate cake.
You can still stop by City Vino and try these miscast wines. Keep and eye out in the City Vino News letters for when the next Voices & Vines Signature Series will be returning. We are shooting for the 16th and 17th of September, so save the date! If you have a topic idea you would like to have featured with both songs and wines, let us know! 
Cheers!