Posted on
Posted in Cabernet Franc, Cabernet Sauvignon, California, grenache, Malbec, merlot, mouvedre, Petit Verdot, Petite Sirah, spain, Syrah, Virginia, zinfandel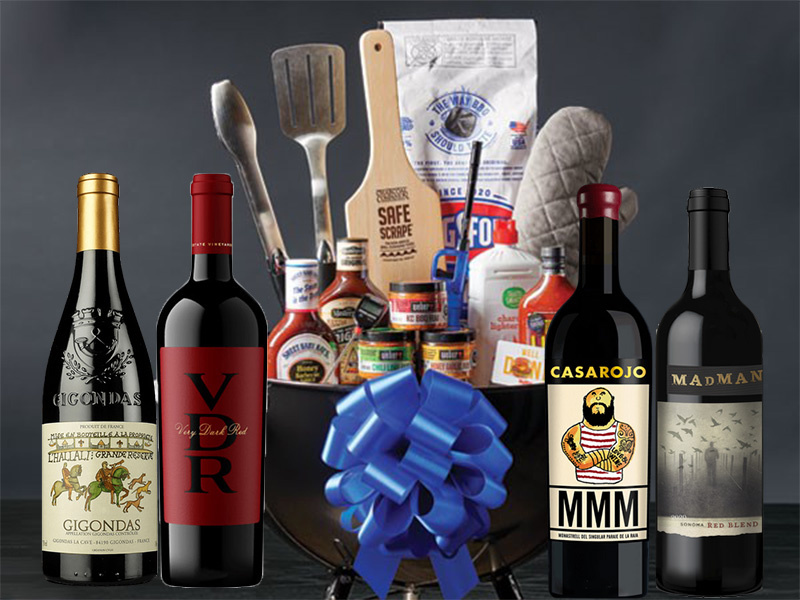 This weekend we celebrate and drink a toast to the important men in our lives, whether you are a father, are a partner to a father or have a father to honor. To cheer on those wonderful men, here are some wines to consider sharing.
Nothing better than to start with the father of Cabernet Franc from the father of Virginia wine—Gabriele Rausse Cabernet Franc. Cabernet Sauvignon is the offspring of Cabernet Franc and Sauvignon Blanc. Gabriele Rausse helped to bring grapes and awareness that growing vinifera in Virginia was not only possible but could be successful. Gabriele Rausse 2022 Cabernet Franc displays herbaceous and cassis on the nose, with a bit of leaf and sweet oak, followed by the classic dark fruit flavors. It is medium-bodied, with hints of earth and pepper. A great pairing would be aged and blue cheeses, with dried Bresaola on the charcuterie tray.
Here is to that macho man, swapping the football game on television for Disney's Playhouse, not afraid to have his nails painted by his favorite little princess, and trading in Poker with the guys for Go Fish. To toast our favorite Macho-Dad, here's the perfect match: Machoman from Caso Rojo. Made from the main macho Mediterranean grape, Monastrell, grown in Murcia, in southeast Spain. It reflects the terroir with balsamic and menthol notes and hints of rosemary, thyme, lavender, and pine. The palate continues with plum and dark berry, finishing with tobacco, leather, and spices. Pair with peppered steak or beef kabobs.
Every great dad has a little Madman inside! Only a madman would take all of Sonoma's star grapes and create this bold blend.  Created by 'Madman' David Rossi, six different varietals were brought together to create a combination of aromas, flavors and textures. Zinfandel, Cabernet Sauvignon, Syrah, Malbec, Cabernet Franc, and Merlot were aged in French and American Oak for 16 months. On the nose is black cherry, anise and cedar, followed by flavors of ripe cherry, cassis, red licorice, graphite, and caramel. 
Sound the hunting horn!  "L'Hallali" is a hunting cry and whether a game hunter, fox hunter, or just a hunter of great wine, the Caves de Gigondas L'Hallali Grande Reserve will reward with jammy red fruit, medium- to full-body, with ripe berry, dark cherry, currant, blackberry, fig, and hints of olive and oak notes. Pair with rich flavors like BBQ pork ribs, brisket or dark chocolate cake.
For the gallant, big as life guy, it takes a wine with the same presence to match! The Scheid family Very Dark Red speaks for itself and has the expressive layers of complexity that every bold wine lover appreciates. If you are drawn to wines where each sip brings on another personality and new characters to experience, this will not disappoint. Two powerhouse grapes have come together with elegant notes of dark fruit, hints of violet, and smooth tannins. Pair this bold beauty with smoked cheeses, game or rich Italian dishes.          
Cheers to all the fathers, stepfathers, father figures, and grandfathers! Whether you choose one of the suggested wines above, or not, just drink what you like! Life is too short to drink bad wine! Cheers!